Teacher profile
Although Musikgarten music teachers range in age from as young as 25 to 75 plus and come from a variety of educational and professional backgrounds, they all share a passion for helping young children and their families discover the joy of music.
7.7 Average number of years Musikgarten music teachers have been with the program. Some teachers, however, have been with us for as many as 20 years.
6 Average number of classes taught by Musikgarten teachers weekly. Some teachers lead as few as one or two children's musci or piano teaching classes per week, while others teach music to as many as 20 to 25 classes each week.
43 Percentage of Musikgarten teachers who say they chose this program over others based on the quality of the curriculum, programming, and materials.
79 Percentage of Musikgarten teachers who say they have recommended becoming a Musikgarten music teacher to others.
97 Percentage of Musikgarten teachers with a college degree. Sixty-two percent of Musikgarten teachers hold a bachelor's and/or master's degree in music, voice, performance, music composition, music education, or a related field. One-third of all Musikgarten teachers hold multiple degrees.
Contact Us for more information.
How Musikgarten teachers identify themselves as musicians…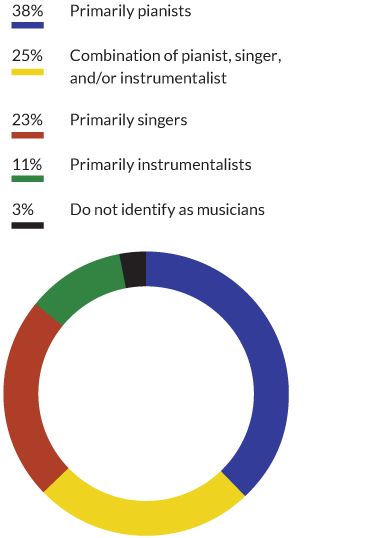 Besides the piano, Musikgarten teachers are most likely to play…organ, clarinet, guitar, flute, violin, cello, and trumpet.